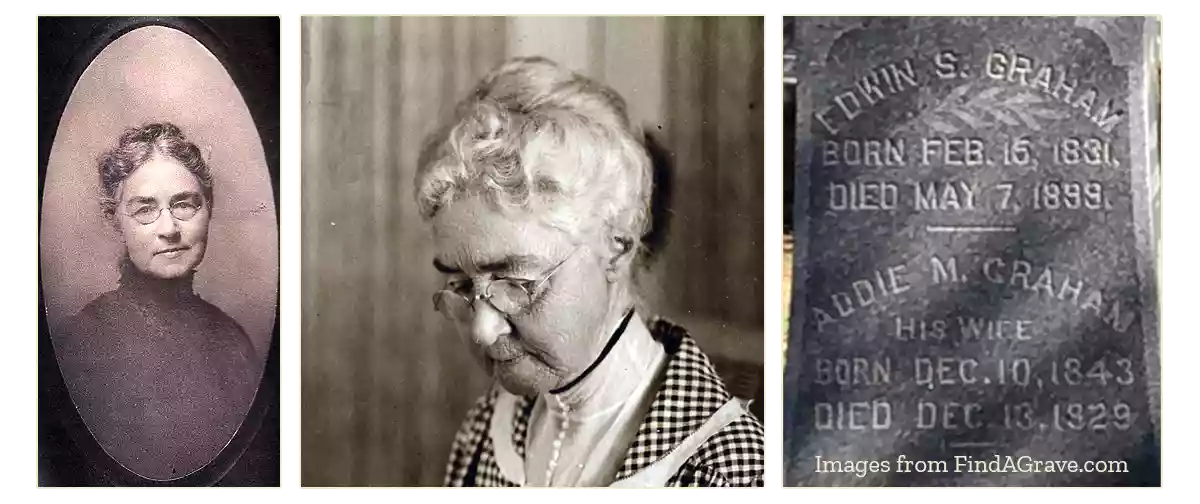 Addie Mary Graham
Addie Graham was and always will be undeniably the First Lady of Graham. She was born Agnes Mary Kintner in 1843 and raised on a family plantation called Cedar Farm, located in the Southcentral tip of Indiana bordering Kentucky. Addie attended public school until the outbreak of the Civil War, when her father, fearing their travel across the river to school, hired a Governess to continue the children's education.
In the late 1850's her future husband moved to Rockhaven, Kentucky with his father. The family business was known as Robert Graham and Sons, and was managed by the oldest son and her future husband, Edwin S. Graham. He was a bright, enterprising man like his father, Intelligent and capable of running the business. He worked alongside his father in all phases of their operation and took over in 1862 upon the death of his father.
Addie, a beautiful, young lady who was active in both the community and the church had caught his eye and his heart, and as a pretense to visit the farm and see her, he would often visit the family, delivering the mail as his excuse. Everyone purposely ignored the fact that Edwin had to find a boat and then to row across the Ohio River "Just to deliver the mail".
As was proper for a lady of means in the south, Edwin courted Addie for almost three years, winning her heart and marrying her on August 8, 1865. She was twenty-two years old when they set out for New York by way of Niagara Falls for their honeymoon. Upon their return Addie set up household in Rockhaven and in 1867 they were blessed with the birth of their first son, Robert. It was during this time that Edwin began hearing about the beauty of Texas from members of the Peter's Colony shareholders.
The Peter's Colony Grant was one of several land grants created to entice settlers to Texas by offering free land to colonists. When the land reverted to the Texas Emigration and Land Company, Edwin was quick to seize the opportunity and invest in the adventure. Selling their holdings in Rockhaven, Addie and child moved back to the family home while Edwin and his brother Gustavus Graham headed to Texas to do some preliminary exploring. Edwin fell in love with Texas and knew he would make it his home. Edwin made arrangements to become a land agent, and he and his brother Gustavus invested heavily in the area, purchasing around 125,000 acres in Texas. Knowledgeable about Texas and having a vested interest, he returned to Kentucky, and as he recruited settlers, he began making plans to bring his family to Texas to see it.
In 1869, shortly before they left on the trip, their second child, Elizabeth Shields Graham was born. In a wagon special ordered for the trip, Addie headed west to Texas. Imagine handling two small children, arranging for the management of the family business and holdings in Kentucky, overseeing the handling of the wagon, and their property on a steamboat. All of this would happen by way of traveling the length of the Mississippi River first, during the period of Reconstruction following the Civil War.
As difficult as it sounds, Addie described the trip as a wonderful adventure. Two weeks by boat first, eventually arriving in Galveston, then another two weeks by wagon across the grasslands and plains of central and north central Texas. Addie enjoyed camping under the stars and their trip was blessed with bright days and cool nights. The Texas wilderness called to her while certain communities were not as attractive. Upon their arrival in Fort Worth, she described it as an "unpromising frontier town", with no schools and no church.
Undaunted, she made the acquaintance of a Colonel Overton and arranged for the renting of a cabin for the family, as winter was about to set in and that had no residence. Edwin was delighted to have his family closer as he explored the western lands of the Peters Colony Grant.
Addie soon heard the stories of Indian depredations along the frontier, but was as brave as her husband Edwin, watching him go with a few frontiersmen into Indian Territory while she smiled and waved and awaited his return. The frontier life and mild winter passed quickly, and as previously stated, Texas had endured itself to her. It was with a heavy heart that she planned her return to Kentucky to attend to business matters and check on the family.
Traveling with her children and expecting another, they arrived at the family home, gave birth to their third child, Malcolm Kintner Graham. The joy of the birth was a happy event for all the family but was soon overshadowed by the death of Addie's father, J.L. Kintner. Addie's mother was devastated, and distraught at the thought of Addie and the children leaving, her condition was so serious that Addie tearfully told Edwin she could not return to Texas. Edwin, sorrowful at the turn of events, bought a home in Louisville Kentucky for his family to live in that was close to Addie's mom.
Addie recalled in her memoirs that this was the biggest regret of her life. Reconstruction and a financial panic in the 1870's brought trade in land in Texas to a standstill, and Edwin was hard pressed for money to even pay his taxes. Edwin was working so hard to promote land sales in Texas that he was only able to visit Addie twice in the next seven years.
Apart from her husband and raising children, she constantly worried about her husband's health and safety in the Texas wilderness.
In 1879 Addie rejoiced to receive a letter from Edwin with money to provide for her and the children to at last migrate to Texas. This time the family boarded a locomotive that ended in Fort Worth where Edwin waited with wagons and horse teams. They traveled to Weatherford for a night and then finally arrived at their new home in the town of "Graham", Texas.
Addie had gone from the plantation and privilege of her youth to a wood frame three-room cottage, but her joy at returning to Edwin and Texas was undaunted and their days were filled with happiness and investment in the budding community. Their home was located north of the town square on Elm Street and close to where the railroad would someday pass through the town.
Addie's family would grow with the births of Ed and Bertha. Addie's mother even came and spent winter with them but fell and passed away shortly after her return to Indiana. Addie loved her family and life in Graham, but she was troubled by the toll it was taking on her husband. Edwin was the father of Graham, laying out lots, selling deeds, and looking over mining and oil speculation.
Edwin poured his heart and soul into the small community, donating land for courts, churches, and schools. The stress was taking its toll and Addie knew it, but she didn't yet know what to do about it.
Malcolm had grown into a young man and had been gone after being accepted and moved to West Point. Upon his first furlough to visit home two years later, he was shocked at his father's appearance and health.
Malcolm returned to the academy to graduate but was so worried about his father he wrote and told his father he would resign from West Point and return to help with the family business. Edwin, wanting to see his son graduate, refused to allow it. As Edwin's condition worsened, he relented (a sign of how much business was affecting him) and Malcolm came home.
Malcolm was a quick learner and soon was running the business affairs in 1892. Seizing the opportunity, Addie convinced Edwin to accompany her to Spokane Washington to visit her sister. The trip was uneventful, but the release of the daily pressures of work allowed Edwin's health to recover.
Being the industrialist at heart however, Edwin heard of mining operations in British Columbia Canada, and soon left Addie with family so he could investigate. He was impressed with what he saw and invested in the operations, but this time his business sense failed him and he never recovered his investment.
The family stayed in Washington until 1897 when Edwin Graham fell ill. Though doctors worked over the course of two years to heal him, Edwin S. Graham passed away on May 7, 1899. Addie returned Edwin to the town he founded for burial. She would not have a year to reconcile her loss before her daughter Bessie Craig would pass away from pneumonia.
Addie assisted Bessie's husband WIlliam in seeing to the raising of his 3 now motherless daughters. Tragedy struck again four years after Bessie died, when William passed away leaving Addie with the responsibility of three granddaughters to raise. Addie saw that each child grew up to become proper ladies and took pride in their accomplishments, marriages, and families after they left her home.
Addie's children, Robert, Malcolm, Ed and Bertha remained in Graham and were all important members of the community.
Most people would think this is the end of her story, but Addie's commitment to her husband's legacy was a lifetime project of dedication and time.
She wanted Graham to have the benefit of education and the arts, and she began contributing to the construction of the Memorial Auditorium. Her Christian values and love for children drove her to create a position for Bible teaching in the Graham schools and the donation of land for the erection of school buildings.
In 1910, Addie Graham donated the funds to provide Graham with its first Water Filtering Plant, which operated for the next 75 years. Her last project, nurtured out of her respect for seniors, was to donate land to open the Eden Home, a senior citizen home, which opened in 1930, one year after her death.
Many people have passed through Graham, leaving a lasting mark on its history. Addie Graham, lived, loved, and nurtured the community with her time, her talents, and her generosity. It is easy to say that Graham would not be the community it is today without her.